HOSOMAKI . MAKI . FUTOMAKI
The Hosomaki rolls are smaller sushi rolls of 6 pieces with a maximum of two or three ingredients per roll. These perfect bite size rolls are ideal to complete a larger sushi order or meal. Their taste is often pure and refreshing as the flavors of their ingredients are more defined. Our client's favorite is without any doubt the Hosomaki Avocado. Salmon, tuna, Japanese crabstick and shrimp are other protein choices possible. We also recommend our own personal favorite, the Hosomaki Shrimp Tempura for that little extra crunchiness.

The Maki rolls are slightly bigger than the Hosomaki rolls. They come in 8 pieces and offer about four to five ingredients per roll. They are easy to grab with your chopsticks or with your hands. We could say that our Maki rolls are unique and each one offers a distinctive flavor profile. Our Butterfly Maki will charm you with its smoky salmon and our Philadelphia Maki will become one of your favorite's with it's creamy cheese.

Our Futomaki rolls are the largest rolls on our menu. They are cut in 5 pieces and by combining two or three rolls, you can create a complete and delicious meal. Pair them with an appetizer or beverage for the optimal experience. Crispy, creamy, spicy, light, protein heavy, there are so many options to choose from. Our Dynamite roll, California roll and Kamikaze are always a great go to. We are certain you will find a roll to your liking and taste profile.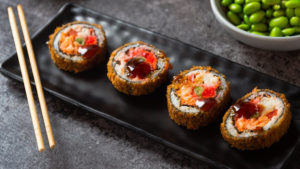 SUSHI PLATTERS
We know how difficult choosing your sushi rolls can be 😉 This is why our sushi platters offer a variety of all size rolls and it is the chef that will decide which rolls will be included in the platter. We admit, we get a little excited every time we create a sushi box!
Our chefs will be happy to mix a variety of protein, flavors and favorite rolls with every sushi box sold. We are certain our sushi selection will please all flavor profiles. You can always mention your preferences, like not having spicy options, and we will do our best to accommodate you.
Enjoy!